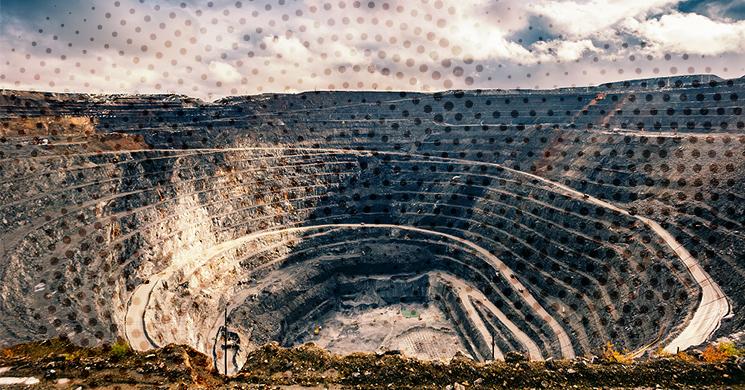 In Q2 2020, Newmont was the top gold mining company despite 21% loss in output. Biggest gold miners produced 9% less yellow metal year-over-year due to COVID-related disruptions.
Mines and Metals analyzed production results of the top ten largest gold mining companies in Q2 2020.
Overall, the biggest gold miners seen a 9% decrease in their gold output, from 7,213 koz in Q2 2019 to 6,530 koz in Q2 2020, mainly due to issues related to Covid-19 disruptions.
Newmont, the world's largest gold mining company, reported that its attributable gold production decreased by 21% to 1,255 thousand ounces from the prior year quarter primarily due to the sites in care and maintenance and the sale of Red Lake and Kalgoorlie, partially offset by higher grades at Porcupine and higher grades and increased throughput at Tanami.
Barrick, the world's second largest gold miner, produced 1,149 koz of gold in Q2 2020. Gold output dropped by 15% compared to Q2 2019 (1,353 koz).
AngloGold Ashanti is third and produced 753 koz of gold, or 6% less than in Q2 2019 (801 koz).
Polyus' total gold output amounted to 690 thousand ounces, a 1% growth year-over-year. This increase was driven by higher production volumes of refined gold at Olimpiada, Natalka and Blagodatnoye, as well as the start of the washing season at Alluvials and the recommencement of heap leaching operations at Kuranakh.
Kinross is fifth and produced 576 koz in Q2 2020, a 12% decrease compared with 654 koz in Q2 2019. The decrease was mainly due to lower production at Paracatu, Round Mountain and Chirano, partially offset by higher production at Bald Mountain and Kupol.
Newcrest Gold production of 573 koz in June quarter 2020 was 13% lower than in June quarter 2019 (661 koz).
Gold Fields produced 550 koz of gold in Q2 2020, a 2% increase y-o-y.
Agnico Eagle quarterly gold production was 20% lower than in Q2 2019. The second quarter was challenging given the global COVID-19 pandemic and its impact on Agnico Eagle operations. While its business returned to normal production levels ahead of schedule in June, the company did have seven of its eight mines on Care and Maintenance at one point during the quarter. 
Kirkland Lake is ninth. Its consolidated Q2 2020 production totalled 329,770 ounces, a 54% increase from 214,593 ounces in Q2 2019 and largely unchanged from 330,864 ounces the previous quarter. The main contributor to the strong growth compared to the same period in 2019 was 131,992 ounces of production from Detour Lake, following the acquisition of Detour Gold on January 31, 2020.
Polymetal is closing the top 10 list. Its gold production grew by 5% y-o-y to 318 koz as strong performance at Kyzyl, Svetloye and Varvara more than offset planned grade declines at Omolon and Voro.
Here is the complete Q2 2020 ranking compiled by Mines and Metals.
Largest Gold Mining Companies: Q2 2020. Source: Mines and Metals.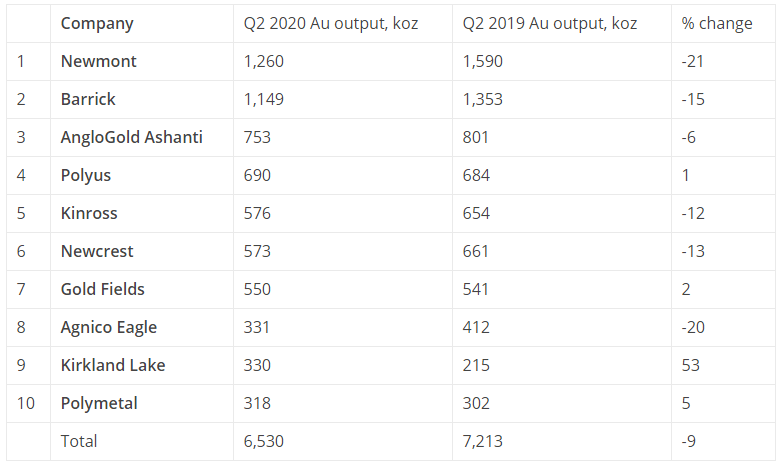 1. Newmont.
Newmont is the world's largest gold company and a producer of copper, silver, zinc and lead. The Company's world-class portfolio of assets, prospects and talent is anchored in favorable mining jurisdictions in North America, South America, Australia and Africa. Newmont is the only gold producer listed in the S&P 500 Index and is widely recognized for its principled environmental, social and governance practices. The Company is an industry leader in value creation, supported by robust safety standards, superior execution and technical proficiency. Newmont was founded in 1921 and has been publicly traded since 1925.
2. Barrick.
Barrick is second largest gold producer in the world. Barrick has gold and copper mining operations and projects in 13 countries in North and South America, Africa, Papua New Guinea and Saudi Arabia. Barrick's diversified portfolio spans many of the world's prolific gold districts and is focused on high-margin, long-life assets.
3. AngloGold Ashanti.
AngloGold Ashanti is third largest gold producer globally and the largest on the African continent, producing 3.3Moz and employing 34,263 people in 2019. Listed on four stock exchanges around the world – the Johannesburg, New York, Australian and Ghana exchanges – and included in the JSE Top 40 Index, FTSE/JSE Responsible Investment Index Series (of the FTSE4Good Index), Responsible Mining Index and the Dow Jones Sustainability Indices (now part of S&P Global Inc) and the Bloomberg Gender-Equality Index. Market capitalisation of $9.28bn as at 31 December 2019.
4. Polyus.
PJSC Polyus is the largest gold producer in Russia, fourth largest and lowest cost gold major miner in the world. The Company also holds the world's second largest gold reserves with 64.4 million ounces of proven and probable gold reserves underpinning its strong growth profile. Polyus' principal operations are located in Krasnoyarsk, Irkutsk and Magadan regions and the Sakha Republic (Yakutia) in Russia and include 5 operating mines, alluvial operations and several advanced development projects.
5. Kinross.
Founded in 1993, Kinross Gold is a senior gold mining company with a diverse portfolio of mines and projects in the United States, Brazil, Chile, Ghana, Mauritania, and Russia. Headquartered in Toronto, Canada, Kinross employs approximately 9,000 people worldwide. The Company is focused on delivering value through operational excellence, balance sheet strength, disciplined growth, and responsible mining.
6. Newcrest.
Newcrest is the largest gold producer listed on the Australian Securities Exchange and one of the world's largest gold mining companies. The Company's headquarters are in Melbourne, Australia, and it operates mines in Australia, Canada and Papua New Guinea.
7. Gold Fields.
Gold Fields is a globally diversified gold producer with nine operating mines in Australia, Peru, South Africa and West Africa (including the Asanko JV), as well as one project in Chile. It has total attributable annual gold-equivalent production of 2.2Moz, attributable gold-equivalent Mineral Reserves of 51.3Moz and Mineral Resources of 115.7Moz. The Company's shares are listed on the Johannesburg Stock Exchange (JSE) and its American depositary shares trade on the New York Stock Exchange (NYSE).
8. Agnico Eagle.
Agnico Eagle is a senior Canadian gold mining company that has produced precious metals since 1957. Its mines are located in Canada, Finland and Mexico, with exploration activities in each of these countries as well as in the United States and Sweden. The Company and its shareholders have full exposure to gold prices due to its long-standing policy of no forward gold sales. Agnico Eagle has declared a cash dividend every year since 1983.
9. Kirkland Lake.
Kirkland Lake Gold Ltd. is a growing gold producer operating in Canada and Australia that produced 974,615 ounces in 2019, with target production for 2020 of 1,470,000 – 1,540,000 ounces. The Company's production profile is anchored by three high-quality operations including, the Macassa Mine and Detour Lake Mine, both located in Northern Ontario, Canada and the Fosterville Mine located in the State of Victoria, Australia. All three mines combine free cash flow generating operations, substantial in-mine growth potential and attractive regional exploration upside to drive continued growth well into the future.
10. Polymetal.
Polymetal International plc is a top-10 global gold producer and top-5 global silver producer with assets in Russia and Kazakhstan listed on the London Stock Exchange, Moscow Stock Exchange and Nur-Sultan International Exchange. The company is a member of FTSE 100,  FTSE Gold Mines and MSCI Russia. Polymetal has a portfolio of nine producing gold and silver mines and an impressive pipeline of future growth projects.
Read more by Vladimir Basov