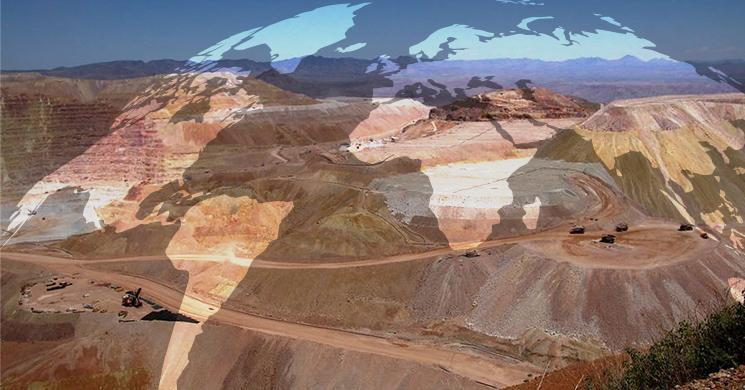 Escondida was the biggest copper mining operation in the world in 2019. Five out of top 10 copper behemoths located in Chile.
As Mines and Metals reported previously, last year approximately 20 million tonnes of copper were produced around the world, or 2% less than in 2018. About third of that came from Chile, home to some of the world's biggest copper mining operations and national giant company Codelco, the world's largest copper producer.
The following is the list of top 10 largest copper mines in 2019 ranked by production that was developed by Mines and Metals. Five of them are located in Chile, three in Peru, one in the US and one in Mexico. These 10 mines produced more than quarter of last year's total copper output.
BHP's Escondida mine continues to be the top copper operation worldwide. The mine complex produced 1,158 ktonnes last year (see table below), or less 4% than in previous year.
Jointly owned by Anglo American and Glencore Collahuasi mine, also in Chile, sits second with 565 ktonnes of copper mined in 2019.
Third largest copper mine is also in Chile. Codelco's El Teniente mine produced 460 ktonnes of copper and this volume was on par with output at Freeport-McMoRan's Morenci mine in USA that jumped three positions up in the ranking.
Chuquicamata, another Codelco's mine in Chile, increased copper output by remarkable 20% and returned to the top 10 list on eighth position.
Not all copper mines showed strong results in 2019. As expected, Grasberg copper-gold mine that was third largest copper operation in 2018, left the top 10 list in 2019. Production here dropped dramatically by 51% due to depletion of open-pit mining and transitioning to underground operations.
Top 10 Biggest Copper Mines in 2019
The Top 10 largest copper mines worldwide in 2019. Source: Mines and Metals
1. Escondida – Chile. 1,158 kt
Escondida copper mine. Source: BHP
Named after the Spanish for 'hidden', Escondida is a copper mine located Atacama Desert in Northern Chile and is the world's largest copper mine by output. Open since 1990, it is one of the deepest open-pit mines in the world. Escondida is majority owned and managed by BHP (57.5%), with Rio Tinto (30%) and Japan Escondida (12.5%) the other joint owners. The mine accounts for about 6% of global copper production.
2. Collahuasi – Chile. 565 kt.
Collahuasi mine. Source: Collahuasi
Collahuasi, the second-largest copper operation in Chile and around the globe, is jointly owned by Anglo American (44%), Glencore (44%) and Mitsui (12%). The mine is located at high altitude — between 3,000 and 5,000 metres above sea level. Most of the concentrate produced at Collahuasi is sold to smelters in China for further refining.
3. El Teniente – Chile. 460 kt.
El Teniente operation. Photo by Codelco.
El Teniente is currently the world's largest underground copper mine and one of the largest by reserve size. It is located about 2,300 metres above sea level in the Andes of central Chile. Chilean state copper miner Codelco, which owns and operates El Teniente, plans to boost production at the mine to more than 500,000 tonnes per year by 2025.
4. Morenci – USA. 460 kt.
Morenci mine, Arizona. Source: Flickr
Located 16km south of Silver City, Arizona, Morenci is the largest copper mine in North America. It is jointly owned by Freeport and Sumitomo, with Freeport being the majority owner and operator. Last year production at the open-pit mine fell to 431,000 tonnes, a 7% drop from 2017.
5. Cerro Verde – Peru. 455 kt.
Cerro Verde mine. File image
Another Freeport-owned mine, Cerro Verde is an open-pit copper and molybdenum mining complex located about 20 miles southwest of Arequipa, Peru. Apart from Freeport, other stakeholders of the mine are SMM Cerro Verde Netherlands, a subsidiary of Sumitomo Metal (21%), Compañia de Minas Buenaventura (19.58%), and public shareholders (5.86%).
6. Antamina – Peru. 449 kt.
Antamina mine's tailings pond. Source: Wikimedia Commons
The Antamina open-pit mine is located in the Andes mountain range, about 270 km north of Lima, Peru. It is jointly owned by BHP (33.75%), Glencore (33.75%), Teck Resources (22.5%) and Mitsubishi (10%). In addition to copper, Antamina is a source of silver, bismuth, molybdenum and lead. The mine is scheduled to cease production in 2019.
7. Buenavista – Mexico. 438 kt.
Buenavista del Cobre. Source: Google Earth
One of the largest copper mines in the world by reserve, Buenavista, also known as Cananea, is located approximately 35 km south of the US-Mexico border in Sonora state. Owned by Grupo Mexico, it is one of the oldest open-pit mines in North America.
8. Chuquicamata – Chile. 385 kt.
Chuqui copper mine. Source: Codelco
Chuquicamata, one of the largest open pit copper mines and the second deepest open-pit mine in the world, is located 1,650km north of Santiago, Chile. The mine, popularly known as Chuqui, has been operating since 1910. The century-old copper mine is owned and operated by Codelco and forms part of the company's Codelco Norte division, which includes the Radomiro Tomic (RT) mine found on the same mineralised system.
9. Las Bambas – Peru. 383 kt.
Las Bambas copper operation. Photo by MMG.
Las Bambas is a joint venture between China's MMG Ltd. and CITIC Metal Co. Ltd. The open-pit mine contains mineral reserves of 7.2 million tonnes and mineral resources of 12.6 million tonnes. MMG estimates that more than 2 million tonnes will be produced in concentrate in the coming years.
10. Los Pelambres – Chile. 363 kt.
Los Pelambres copper mine. Source: Antofagasta.
Antofagasta's Los Pelambres is a copper mine in Chile's Coquimbo region, 240 km north-east of Santiago. It produces copper concentrate (containing gold and silver) and molybdenum concentrate through a milling and flotation process.
Read more by Vladimir Basov