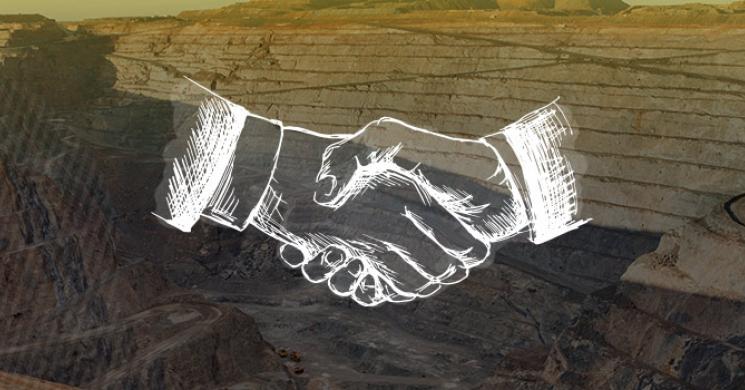 Mining industry M&A deals totaled $2.1B in June 2020, a slight drop over May value. Gold deals by value dropped 57%. Base metals deals are gaining momentum. Chinese firms secured three spots in the list of top 5 deals.
Mines and Metals analyzes mining M&A data by researching announced and completed deals with reported transaction value (cash, shares, cash + shares) of more than USD$100,000. Performance-based consideration was excluded from deals valuation, as well as deals involved JV, option and earn-in agreements.
According to the Mines and Metals' database, total mining sector M&A deals worth $2.1B were announced in June 2020 globally.
In June 2020, deals value was 13% less than in May 2020 ($2.4B), but 110% more than in June 2019 ($1B).
In terms of deals value in different regions, Asia held the top position with total announced deals in June 2020 worth $1.13B (Fig. 1), followed by South America ($0.33B), Africa ($0.28B) and North America ($0.2B).
China topped the list on the country level with announced M&A deals value amounted to $0.76B.
Figure 1. Mining M&A deals value in June 2020 by target region, USD$B. Source: Mines and Metals.
The top region in terms of mining M&A deals count in June 2020 was North America with 20 deals, followed by Australia & Oceania with 18 deals and Africa with 5 deals.
Value of deals related to gold assets acquisition amounted to $0.9B (43% of total deals value), a 57% drop compared to May 2020 number ($2.08B or 87% of total deals value).
Base metals are gaining momentum in June, with deals involved copper and nickel assets amounted to $1B (48% of total deals value).
Value of deals in June 2020 by commodity, $B. Source: Mines and Metals.
The combined value of the top five mining M&A deals was $1.59B, which accounted for 76% of their overall value in June 2020.
Here is Mines and Metals' top five mining industry M&A deals in June 2020:
1. Zijin Mining, which is best known as a gold miner, announced acquisition of 50.1% of Tibet Julong Copper for $550 million.
2. Brazilian miner Vale and its Japanese partner Sumitomo Metal Mining announced selling of a stake of 20% in Vale Indonesia (PT Vale), a publicly-listed Indonesian copper ores company, to Indonesia Asahan Aluminium (Persero), also called Inalum, for IDR5.52bn ($371 million).
3. Zijin Mining has emerged as the unnamed multinational that trumped Silvercorp Metals' (TSX: SVM; NYSE: SVM) bid for Guyana Goldfields. Zijin Mining agrees to acquire Guyana Goldfields for $238 million.
4. China's Shandong Gold to buy Ghana-focused Cardinal Resources for $221 million in all cash takeover deal.
5. Canadian gold producer Barrick Gold announced disposition of its majority stake in Shandong Gold Mining Co for $210 million.
In June, 17 deals (14 deals in May) were related to the acquisition of assets with calculated mineral reserves / resources, of which 13 deals (10 deals in May) involved gold deposits.
The winner in the category of the lowest price paid per the ounce of gold in-situ is Kingston Resources that acquired JV partner's 19% interest in the Misima Gold Project, PNG for $A2.0m. Kingston paid just US$2.3/oz compared to the market price of gold of $1,763/oz at the time of acquisition.
Read more by Vladimir Basov