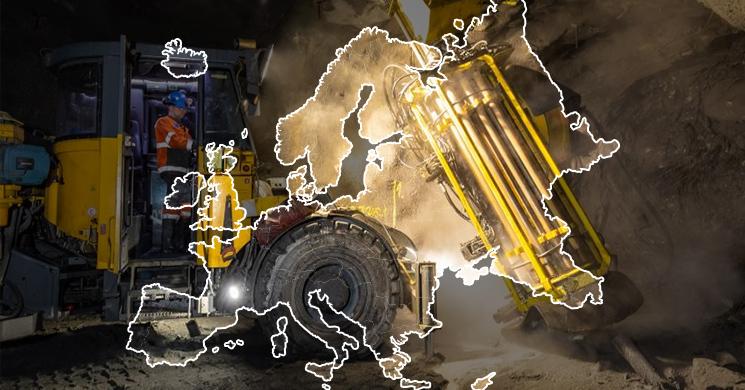 Gold production in Europe (excl. Russia) has grown 12% y-o-y and amounted to 477 koz in Q1 2020. Copler (Çöpler) mine in Turkey was the largest gold operation in Europe in Q1 2020.
Gold mining industry in Europe is usually outshone by more prominent gold producing regions, but local gold sector is alive and vibrant, with some new exciting developments ongoing.
Based on quarterly reported data, Mines and Metals estimated that gold production in Europe (excluding Russia) amounted to 477 koz in Q1 2020, a 12% growth over Q1 2019 output (427 koz).
With 88 koz of gold mined in Q1 2020, Alacer Gold's Çöpler operation in Turkey was the largest gold producing center in Europe. The Çöpler Gold Mine produced its two millionth ounce during the quarter.
Eldorado Gold's Kisladag (Kışladağ) mine was the second largest gold mine in Europe that produced 50,176 ounces, an increase of 84% from Q1 2019 production of 27,247 ounces, as a result of the suspension of new ore placement on the heap leach pad from April 2018 through March 2019.
However, production was lower than expected during Q1 2020 as a result of elevated rainfall leading to increased levels of gold inventory in the solution ponds and higher-grade solutions being recirculated to the leach pad.
Gold production at Europe's third largest Agnico Eagle's Kittila gold mine in Finland in the first quarter of 2020 amounted to 49 koz and was essentially unchanged when compared to the prior-year period as lower throughput levels were offset by higher grades and higher recoveries.
The complete list is below.
Largest gold mines in Europe – Q1 2020 Overview. Source: Mines and Metals.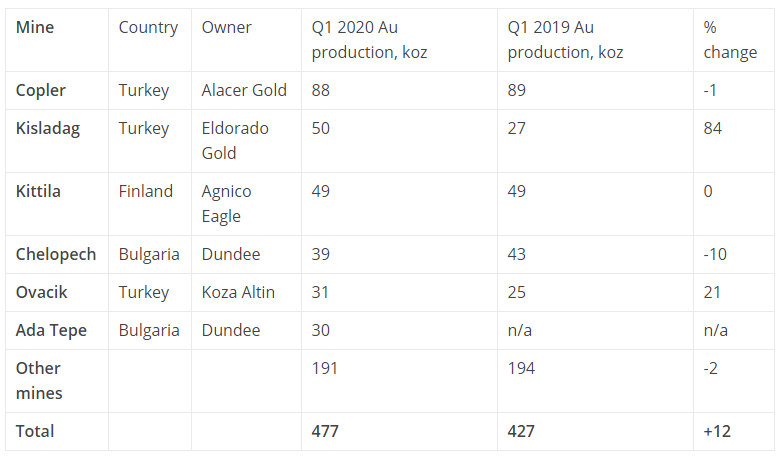 1.Copler. 88 koz.
Copler gold mine tailings facility, Turkey. Source: Alacer.
Alacer Gold operates the world-class Çöpler Gold Mine in eastern Turkey that produced 391,213 ounces of gold in 2019. Alacer has substantial Proven and Probable Reserves of almost 3.3 million contained ounces and Measured and Indicated Resources of 6 million ounces of contained gold. The Çöpler Gold Mine has been successfully operating since 2010, processing oxide ore via a heap leach operation. The oxide ore is progressively being exhausted and the mine started processing sulfide ore in November 2018 using pressure oxidation, commonly referred to as "POX".
2. Kisladag. 50 koz.
Kisladag open-pit gold mine in Turkey. Source: Eldorado.
Eldorado Gold's Kışladağ is a low-grade, bulk-tonnage, open pit operation that uses heap leaching for gold recovery. Kışladağ is located in Usak Province in western Turkey and is the largest gold mine in the country. The Kışladağ deposit was an original discovery made by Eldorado in the late 1990's during a regional grassroots exploration program.
3. Kittila. 49 koz.
Kittila underground gold mine in Finland. Source: Agnico Eagle.
The Kittila mine is located in the Lapland region of northern Finland, approximately 900 km north of Helsinki and 150 km north of the Arctic Circle. Kittila achieved commercial production on May 1, 2009, becoming Agnico Eagle's first mine to open outside of Canada. Since open-pit mining was completed in 2012, Kittila has been an underground-only operation.
4. Chelopech. 39 koz.
Chelopech gold mine in Bulgaria. Source: Dundee.
The Chelopech mine is located in central-western Bulgaria approximately 70 kilometers east of Sofia, the national capital, on the southern flank of the Balkan Ranges. The deposit lies in the northern part of the Panagyurishte mining district where a number of copper-bearing massive sulphide and porphyry copper deposits exist. The mining license covers an area of 266 hectares and includes the area of the Chelopech mining operation and the immediate surrounds. Dundee Precious Metals owns the land upon which the facilities are constructed and operates under a concession agreement that was granted by the Republic of Bulgaria in 1999 for a period of 30 years.
On September 30, 2003, Dundee Precious Metals, through certain of its wholly-owned subsidiaries, completed the purchase of the Bulgarian mining assets from Navan and Deutsche Bank AG of London which included the Chelopech mine. The annual ore processed has increased from 523,810 tonnes in 2004 to 2,052,138 tonnes in 2015.
5. Ovacik. 31 koz.
Ovacik gold mine, Turkey. Source: Koza Altin.
Koza Altin's Ovacık Gold Mine situated near the village of Ovacik between Bergama and Dikili on the north of Izmir is Koza Gold's first gold mine. In May 2001, Eurogold has poured its first gold at Ovacik Gold Mine.  Koza Gold Operations Inc has acquired the mine in 2005 to operate first domestic gold mine in Turkey.
6. Ada Tepe. 30 koz.
Ada Tepe gold mine, Bulgaria. Source: Dundee.
Dundee's Ada Tepe gold mine site is located at Ada Tepe hill, approximately three kilometers south of the town of Krumovgrad in southeastern Bulgaria. It is an open pit mining operation comprised of a process plant, which employs conventional crushing, grinding and flotation processing for gold extraction, and the disposal of thickened tailings, together with mine rock waste, in an integrated mine waste facility ("IMWF"). The plant is designed to treat up to a maximum of 840,000 tonnes of ore per annum over an eight-year mine life, including processing stockpiled low grade ore at the end of the project. The treatment rate is consistent with existing permitting applications and environmental submissions. The mine operates under a 30-year concession contract, granted in 2011.
Read more by Vladimir Basov