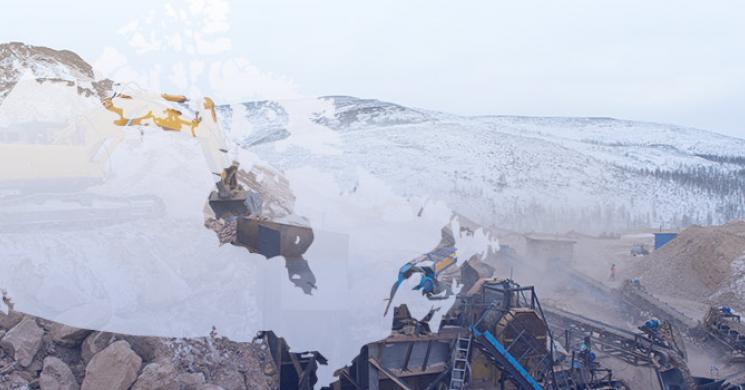 Detour Lake was the largest gold mine in Canada in Q1 2020. Covid – related suspensions impacted biggest mines.
The following is the list of top ten largest gold mines in Canada in Q1 2020 created by Mines and Metals on the basis of companies' reports.
With estimated 140 koz of gold mined in Q1 2020, Kirkland Lake's Detour Lake gold mine was the largest gold producing operation in Canada, followed by Agnico Eagle / Yamana Gold's Canadian Malartic (130 koz) and Pretium Resources' Brucejack (83 koz) mines.
Fourth largest gold operation in Canada was Newmont's Porcupine mine (77 koz).
Agnico Eagle's new Meliadine mine increased production by 298% and entered the top ten list on fifth place (70 koz).
Covid – related suspension hit hardest gold output at Canadian Malartic mine. Production impact here is approximately 40,000 gold ounces in Q1 2020.
The detailed analysis is below.
Largest gold mines in Canada – Q1 2020. Source: Mines and Metals.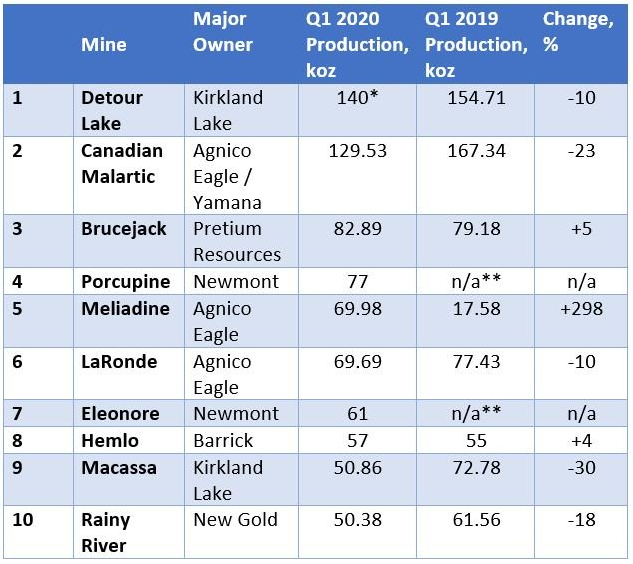 *Estimation based on two months of reported production. **No comparable data for Q1 2019 due to Newmont & Goldcorp deal.
1. Detour Lake.
Detour Lake mine. Source: Detour Gold.
The Detour Lake open pit mine is located in northeastern Ontario, approximately 300 kilometres northeast of Timmins and 185 kilometres by road northeast of Cochrane, within the northernmost Abitibi Greenstone Belt. The operation is situated in the area of the historic Detour Lake open pit/underground mine operated by Placer Dome which produced 1.8 million ounces of gold from 1983 to 1999. Detour Gold acquired the property in January 2007, completed a feasibility study in June 2010 and commenced gold production in February 2013. The Detour Lake operation has a mine life of approximately 22 years with an average gold production of 659,000 ounces per year, and includes the development of the West Detour project which is currently being permitted. Kirkland Lake Gold completed acquisition of Detour Gold on January 31, 2020.
It is estimated that Detour produced 140 koz of gold in Q1 2020, a 10% decline over Q1 2019.
Read more about Detour Lake mine here.
2.Canadian Malartic.
Canadian Malartic mine. Source: Agnico Eagle.
Canadian Malartic, 25 km west of Val-d'Or, northwest Quebec, is the largest operating gold mine in Canada. The large open-pit mine and plant built by Osisko Mining Corp. began commercial production in May 2011. In June 2014, Agnico Eagle and Yamana Gold acquired Osisko and created the Canadian Malartic General Partnership that owns and operates the mine. Agnico Eagle and Yamana each have an indirect 50% ownership interest in the Partnership.
Canadian Malartic produced 129.53 koz of gold in Q1 2020, a 23% drop over Q1 2019 (167.34 koz).
Read more about Canadian Malartic mine here.
3. Brucejack.
Brucejack mine. Source: Pretium.
The Brucejack Mine is a high-grade gold underground mine located in northwestern British Columbia, approximately 65 kilometers north of Stewart. A year-round, all-weather access road connects the mine to Highway 37. The mine's operations and camps are fully grid-powered, with diesel backup available. The mine began commercial operation in July 2017.
Brucejack produced 82.89 koz of gold in Q1 2020, a 5% increase over Q1 2019 (79.18 koz).
Read more about Brucejack mine here.
4. Porcupine.
Porcupine gold mine. Source: Goldcorp.
Newmont's Porcupine Underground & Open-Pit Gold Mine located in and around the City of Timmins.
Porcupine district has produced more than 67 million ounces since 1910. Currently, approximately 60% of the gold comes from the Hoyle Pond underground mine, where mechanized cut and fill and longhole mining methods are used to extract the ore, and the remaining ore comes from the Hollinger Open Pit mine. The Dome Underground mine ceased operations in 2017.
Ore is processed at the Dome processing facility using a circuit that includes crushing, grinding, gravity concentration, cyanide leaching, carbon in pulp recovery, stripping, electrowinning and refining.
Porcupine produced 77 koz of gold in Q1 2020.
Read more about Porcupine mine here.
5. Meliadine.
Meliadine gold mine. Source: Agnico Eagle.
Agnico Eagle's Meliadine Underground Gold Mine is located near the western shore of Hudson Bay in the Kivalliq District of Nunavut, about 25 kilometres north of Rankin Inlet and 290 kilometres southeast of our Meadowbank mine.
Commercial production began at Meliadine in mid-May 2019. The mine produced 238,000 ounces gold in 2019 (including pre-commercial production), and expected to produce 385,000 ounces of gold production in 2020, its first full year of production. The Company anticipates that mining at Meliadine will be carried out through several underground mining operations and open pits over a 14 year mine life. There are numerous opportunities to create additional value at Meliadine, both at the mine and on the large regional land package.
Meliadine produced 69.98 koz of gold in Q1 2020, a 298% increase over Q1 2019 (17.58 koz).
Read more about Meliadine mine here.
6. LaRonde.
LaRonde mine. Source: Agnico Eagle.
LaRonde is Agnico Eagle's flagship mine, located in the Abitibi region of northwestern Quebec. LaRonde has produced almost 6 million ounces of gold since it opened in 1988. LaRonde's 2.2-km deep Penna Shaft is now the deepest single-lift shaft in the Western Hemisphere.
LaRonde mine produced 69.69 koz of gold in Q1 2020, a 10% decline over Q1 2019.
Read more about LaRonde mine here.
7. Eleonore.
Eleonore gold mine. Source: Newmont.
Newmont's Eleonore Underground Gold Mine is located in Eeyou Istchee/James Bay, in a remote corner of the Northern Quebec region, 800 kilometres north of Montreal on the 52nd parallel.
Eleonore is a world-class, state-of-the-art facility that is among the largest gold mines in Quebec.
Its first gold pour was on October 1, 2014, and it achieved commercial production on April 1, 2015.
Eleonore mine produced 61 koz of gold n Q1 2020.
Read more about Eleonore mine here.
8. Hemlo.
Hemlo gold mine. Source: Barrick.
Barrick's Hemlo property consists of David Bell, an underground mine, and Williams, an underground and open pit mine, located approximately 350 kilometers east of Thunder Bay, Ontario.
The Williams and David Bell mines share milling, processing and tailings facilities where ores from the two mines are co-mingled and fed to a standard grind, leach and carbon-in-pulp extraction mill.
Hemlo mine produced 57 koz of gold in Q1 2020, or 4% more than in Q1 2019.
Read more about Hemlo mine here.
9. Macassa.
Macassa gold mine. Source: Kirkland Lake.
Kirkland Lake's Macassa Underground Gold Mine is located in the Town of Kirkland Lake, 580 km north of Toronto, Ontario, Canada.
Macassa is one of the highest gold grade mines in the world. Macassa commenced operations in 2002, and with the discovery of the South Mine Complex (SMC), has been able to increase its level of production significantly over the past five years. The SMC has been driving grade improvement at Macassa, with results from ongoing exploration drilling continuing to extend the SMC mineralization and adding to the Mine's Mineral Resources in support of growing production and extending mine life.
The mine is located in an area with well-developed infrastructure, including a provincial highway, a railway system and a private airport. High-grade ore is processed at the Macassa Mill, which currently has available capacity and is located in close proximity to the mine.
Macassa mine produced 50.86 koz of gold in Q1 2020, a 30% decline compared to Q1 2019.
Read more about Macassa mine here.
10. Rainy River.
Rainy River mine. Source: New Gold.
New Gold's Rainy River Mine located 65 km northwest of Fort Frances, Ontario, in the southern half of Richardson Township. Rainy River commenced processing ore on September 14, 2017 and completed its first gold pour on October 5, 2017. Commercial production followed on October 19, 2017. Development of the underground mine began in the second half of 2018. The mine occupies approximately 6,050 hectares, comprising 87 patented mining rights and surface rights claims (including eight leasehold interest mining rights and/or surface rights claims). In addition, New Gold has a land package of approximately 17,240 hectares surrounding the mine site, including patented mining rights and/or surface rights and unpatented claims. All unpatented claims are in good standing and assessment work credits are sufficient to maintain that standing for several years.
Rainy River produced 50.38 koz of gold in Q1 2020, or 18% less than in Q1 2019.
Read more by Vladimir Basov