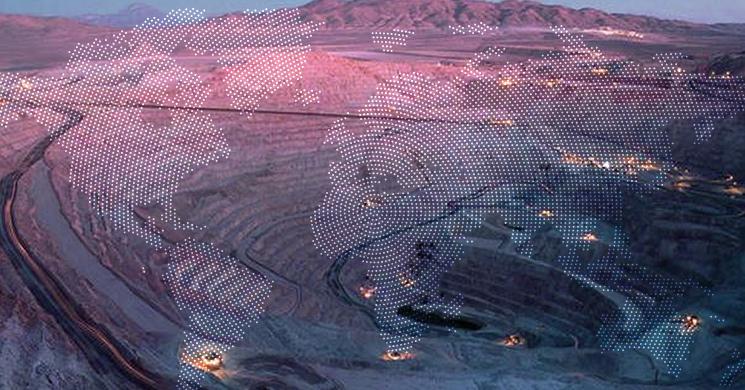 Codelco was the largest copper producer in the world in Q1 2020 (based on attributable copper tonnes). Despite COVID-19 threats, top 10 copper producers managed to increase their output in March Quarter by 1% y-o-y to 2,233 thousand tonnes.
Mines and Metals reports that during Q1 2020, the world's top ten copper producers mined 2,233 ktonnes of copper, a 1% increase over Q1 2019.
The world's copper industry has managed to maintain operations even as the coronavirus has ravaged South America's economies and shut down many other non-essential businesses.
For the most part, Covid-related disruptions took effect close to or after 31 March. Q1 2020 copper production was, therefore, largely unaffected by them.
For the June 2020 quarter, Chilean and Peruvian copper operations are expected to operate with a reduction of more than 30 per cent in their operational workforce as companies incorporated a series of planned preventative measures for COVID-19.
Production at Codelco – the world's largest copper mining company – rose 4.3% year over year during Q1 2020 to 387 thousand tonnes.
BHP jumped one position up and sits second despite 1.3% less copper mined in Q1 2020 (302 ktonnes). Lower production at Escondida due to the impact of expected lower copper grades, was partially offset by continued strong concentrator throughput. Lower volumes at Olympic Dam were due to unplanned downtime at the smelter.
Glencore lost one position and sits third. Own sourced copper production of 293,300 tonnes was 27,400 tonnes (9%) lower than Q1 2019. No production was reported in the quarter for Mutanda (on care and maintenance) and Mopani (Q1 smelter restart processed 5.0kt (of 10.6kt) of copper contained concentrates produced and reported in H2 2019, while the smelter underwent a major multi-month rebuild).
Freeport-McMoRan is fourth with 268 ktonnes of copper mined in Q1 2020. 3.6% decline in production y-o-y was due to South America's operations temporary transition to a care and maintenance status associated with the COVID-19 pandemic.
Southern Copper production increased 5.7% to 242 ktonnes in 1Q20 when compared with 1Q19, due to higher production at its Peruvian mines (+17.8%) as result of the new Toquepala concentrator and higher ore grades and recoveries in the Cuajone mine. This was partially offset by lower production at Buenavista mine (-3.1%) due to lower ore grades.
First Quantum jumped one position up and now sits sixth with 195 ktonnes of total copper production for Q1, an increase of 42% from the comparable period of 2019 including a contribution of 56,240 tonnes from Cobre Panama.
KGHM is seventh with 174 thousand tonnes of copper mined in Q1 2020.
Rio Tinto mined copper production of 133 thousand tonnes was 8% lower than in the same period in 2019, reflecting anticipated lower copper grades, partially offset by higher throughput.
Antofagasta attributable copper production in Q1 2020 was 124 thousand tonnes, an increase of 2% compared with the same quarter in 2019 and 4.6% higher than in Q4 2019.
Norilsk Nickel is closing the top ten list. A 9% decrease in copper output y-o-y was attributed to scheduled reduction in processing volumes of concentrate purchased from Rostec and its lower metal grades. At the same time, Bystrinsky project continued its ramp-up delivering a record 15 kt of copper in copper concentrate, up 21% from the fourth quarter 2019 and 51% higher than a year ago.
The complete list is below.
Top 10 Copper Producers Worldwide: Q1 2020 Overview. Source: Mines and Metals.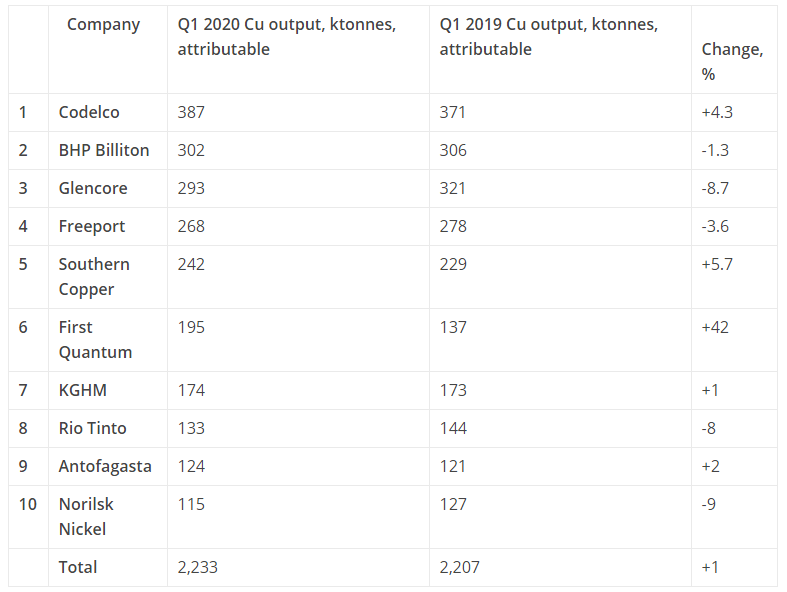 1. Codelco.
Codelco (Corporación Nacional del Cobre de Chile or, in English, the National Copper Corporation of Chile), the world's largest producer of copper, is a Chilean state owned mining company. It was formed in 1976 from foreign-owned copper companies that were nationalized in 1971. It owns the world's largest known copper reserves and resources that sufficient for more than 70 years of operation at current production rates.
2. BHP Billiton.
BHP is a world-leading resources company. BHP extract and process minerals, oil and gas, with more than 72,000 employees and contractors, primarily in Australia and the Americas. BHP products are sold worldwide, with sales and marketing led through Singapore and Houston, United States. BHP global headquarters are in Melbourne, Australia. The Company operates under a Dual Listed Company structure with two parent companies (BHP Group Limited and BHP Group Plc) operated as if they were a single economic entity, which is referred to as BHP. BHP runs by a unified Board and management.
3. Glencore.
Glencore is one of the world's largest globally diversified natural resource companies and second largest copper producer. Founded in the 1970s as a trading company, Glencore has grown to become a major producer and marketer of commodities – employing 160,000 people around the world. Its operations comprise around 150 mining and metallurgical sites and oil production assets.
4. Freeport-McMoRan.
Freeport-McMoRan (FCX) is a leading international mining company with headquarters in Phoenix, Arizona. The Company was incorporated under the laws of the state of Delaware on November 10, 1987. Freeport operates large, long-lived geographically diverse assets with significant proven and probable reserves of copper, gold and molybdenum. Its portfolio of assets includes the Grasberg minerals district in Indonesia, one of the world's largest copper and gold deposits; and significant mining operations in the Americas, including the large-scale Morenci minerals district in North America and the Cerro Verde operation in South America.
5. Southern Copper.
SCC is a majority-owned, indirect subsidiary of Grupo Mexico S.A.B. SCC is one of the largest integrated copper producers in the world. SCC produces copper, molybdenum, zinc, lead, coal and silver. All of its mining, smelting and refining facilities are located in Peru and Mexico and SCC conducts exploration activities in those countries and Chile. Since 1996, SCC's common stock is listed on both the New York and Lima Stock Exchanges.
6. First Quantum.
First Quantum is a global copper company. The Company produces copper in the form of concentrate, cathode and anode, and have inventories of nickel, gold and cobalt. First Quantum operates long life mines in several countries and employ approximately 20,000 people world-wide.
7. KGHM.
KGHM Polska Miedź S.A. (Kombinat Górniczo-Hutniczy Miedzi), commonly known as KGHM, is a Polish multinational corporation that employs around 34,000 people around the world and has been a major copper and silver producer for more than 50 years. In 1991, the company was established as a state enterprise and since 1997, their shares have been traded on the Warsaw Stock Exchange.Currently, KGHM operates 9 open-pit and underground mines located in Poland, Canada, the USA and Chile and is actively advancing 4 projects. KGHM produces key global resources including copper, gold, silver, nickel,  molybdenum, rhenium, lead, selenium and platinum group metals.
8. Rio Tinto.
Rio Tinto is an Anglo-Australian multinational and the world's second largest metals and mining corporations, behind BHP Billiton, producing iron ore, copper, diamonds, gold and uranium. The company was founded in 1873, when a multinational consortium of investors purchased a mine complex on the Rio Tinto, in Huelva, Spain, from the Spanish government. Since then, the company has grown through a long series of mergers and acquisitions to place itself among the world leaders in the production of many commodities, including aluminium, iron ore, copper, uranium, and diamonds.Although primarily focused on extraction of minerals, Rio Tinto also has significant operations in refining, particularly for refining bauxite and iron ore. The company has operations on six continents, but is mainly concentrated in Australia and Canada.
9. Antofagasta.
Antofagasta is one of the major international copper producers with its activities concentrated mainly in Chile where it now operates four copper mines: Los Pelambres, Centinela (previously the Esperanza and Tesoro mines), Antucoya and Zaldivar (50% owned, 50% owned by the Canadian mining company Barrick Gold).
10. Norilsk Nickel.
MMC Norilsk Nickel is a diversified mining and metallurgical company, the world's largest producer of palladium and high-grade nickel and a major producer of platinum and copper. The company also produces cobalt, rhodium, silver, gold, iridium, ruthenium, selenium, tellurium, sulphur and other products. The production units of Norilsk Nickel Group are located at the Norilsk Industrial District, on the Kola Peninsula and Zabaykalsky Krai in Russia as well as in Finland and South Africa. MMC Norilsk Nickel shares are listed on the Moscow and on the Saint-Petersburg Stock Exchanges, ADRs are traded over the counter in the US and on the London, Berlin and Frankfurt Stock Exchanges.
Read more by Vladimir Basov